Robinair A/C Recyclers
34788NI-H
Premier R-134A Refrigerant Recovery, Recycling, and Recharging Machine for Hybrid and Non-Hybrid Vehicles
Robinair introduces its next innovation, the 34788NI-H, featuring an industry leading 98.5% recovery efficiency for standard and hybrid vehicles and fully automatic function.
Robinair 34788NI and 34788NI-H machines recover, recycle, evacuate, leak-test and recharge R-134a with improved 98.5% efficiency – unmatched by any competitor. The new design features a larger graphical display, automatic features including leak testing, automatic refrigerant refill and oil drain/inject – putting A/C lubricant back into the system. 34788 also boasts the ability to add a printer, USB data sharing, refrigerant identifier and wireless module for Wi-Fi or Bluetooth® communication. An optional refrigerant charge and oil capacities database is available for North American market vehicles. 
Fully-Automatic Function: Program to recover, vacuum, leak test and charge without operating panel valves.
Automatic Oil Drain: A display reminds you to empty the graduated container to show the amount of oil to replace.
Refrigerant & Oil Database: A/C system capacities for North American market vehicles (Optional – not included with the machine)
A/C System Flush: Flushes a vehicle's A/C system with refrigerant, eliminating any residual oil or other liquid. (Flushing adapters not included)
Save & print before and after service data: Allows the user to store before and after service information by vehicle and print this information to provide to a customer.
Visual & Audible Alarm: Notifies the user when service is complete, or if a problem has occurred.
Vacuum Leak Test: Monitors level after evacuation, informs of possible leak.
Automatic Air Purge: Eliminates system-damaging air without monitoring gauges or opening valves.
Automatic Refrigerant Refill: Maintains a user-selectable amount of refrigerant in an internal vessel and signals when it's time to change supply tank, no monitoring required.
Vacuum Feature: Defaults to 15 mins, programmable up to 99 mins. "Remaining time" is displayed.
Display: Multilingual
Refrigerant Charging: Select a charge mode from high or low side, or use both sides.
Refrigerant Management System: Displays refrigerant use and monitors remaining filter life. Prompts appear when 1/3 of filter life remains.
Electric Vehicle: Capable of servicing high voltage electric compressor A/C systems.
Optional Printer
Optional Refrigerant Identifier
——————————
AC1234-6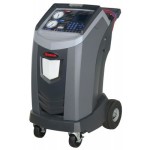 1234YF Recover, Recycle, Recharge Machine
The AC1234-6 was the first commercially available machine to fully meet the SAE's requirement for recovering, recycling and recharging vehicle A/C systems that use the new R1234YF refrigerant. The AC1234-6 is a fully automatic ACS machine that comes with an integrated refrigerant identifier that samples the refrigerant in the vehicle's A/C system prior to recovery, is a highly accurate and reliable machine, and can service both standard and hybrid vehicle A/C systems.
Fully automatic operation — program for service, walk away and return when complete.
95% recovery efficiency
Programmable vacuum operation helps get to the necessary vacuum level in any condition quickly.
System leak test to identify gross leaks in a system.
Charge accuracy within +/- ½ oz.
Automatic oil drain shows how much oil was removed from the system during service.
Automatic air purge removes the potential of air accumulating in the internal tank.
Integrated refrigerant identifier (meets SAE J2927)
Liquid refrigerant flushing function can flush A/C systems or individual components using liquid refrigerant instead of harsh chemicals.
Automatic internal tank refill. No stopping to fill the internal tank during service, or before service.
1/4 Color VGA display. Large easy to read graphical display
On-board printer capable of printing vehicle service report slips to present to customers.
---
Share This!